<!-sidebar->



<!-Left main page table cell->



Dixie Soaps
Dixie-Does Alpines is home to Dixie Soaps, we produce luxurious goat milk soaps, lotions, and lip balms. We have a huge selection of both natural and fragrance oil scents! Follow us on Facebook for new products and sales.

Dixie-Does Dairy Goats

Dixie-Does Alpines is a small herd of dairy goats established in 1994 by a team of brothers and sisters. After a marriage, the goats now reside in Dayton, TN. We have high standards, focusing on breeding healthy, structurally correct, elegant dairy does with excellent udders that excel in both the show ring and the milk parlor. Our herd presently consists of American Alpines. Our feature product is Hand Made Goat Milk Soap.

We sell kids every spring and occasionally have a limited number of adult milkers available. We also sell a number of other farm products. See our Products page for details.

Dixie-Does History, Awards, and Achievements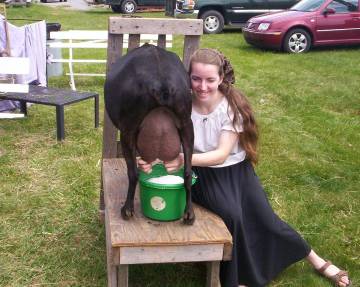 We had the opportunity to purchase two bred doelings from Kathy Evans and Susan Calahan of Waiilatpu in November 2000. These lovely does, Maire and Gabriela, are the foundation of our herd. Both does are now permanent champions, both have appraised excellent twice, both have Best In Show wins, and both have lactations over 3000 lbs.
We greatly admire their beauty, productivity, and their ability to pass these traits to their offspring.
Since then we have added several does and bucks from Waiilatpu. We are so grateful to Kathy and Susan for making these exceptional animals available to us.
In 2005, we added two bucks from the Nestor Acres herd and a lovely yearling doe from Munchin Hill.
We would like to thank Kathy and Susan, Jeff, Pat, and Christen, and Cheryl for allowing us to purchase some of their lovely Alpines.
Also in 2005, we organized and hosted an open ADGA show, the First (of 4) Annual Fall Fuzzy Show. We would like to thank each of you that attended and made our show a success.
In 2007, we finished Eva and Priority and had many memorable moments in the show ring. We were thrilled to be very competitive in group classes this year, even winning Best Herd in Show several times!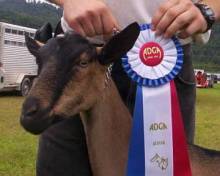 We also hosted a second ring at the NRV Fair Show on July 31, 2007.
Dixie-Does won Premier Alpine Exhibitor at both the 2007 VA State Fair and 2008 WV State Fair
After approximately 10 years of making goat milk soap for family and friends, we began selling our soap more widely, with many positive reviews. We now have a wide range of soap scents available, and our soap products have become the farm's feature product.
2008 began on a very sad note, with the passing of our beautiful and beloved GCH MonaLisa. MonaLisa had quite the fan club and was popular everywhere she went. Her untimely death was a difficult blow emotionally and a major loss for our breeding program.
We still miss Mona but watching her descendants mature into outstanding animals helped fill the hole she left behind. We were delighted to welcome three maternal sisters into the herd, born 12-21-08!
With a small and young show string we managed to finish championships on a homebred mother-daughter duo, Abbey Road and Antoinette!
We hosted the Fall Fuzzy Show again in 2008.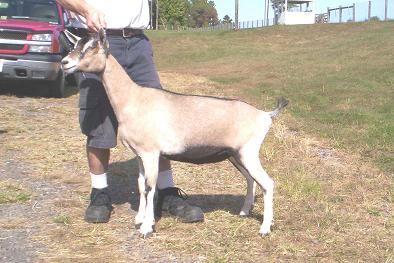 Dixie-Does Purcell Jetaime
(Jacqsonné and Purcell) was Jr GCH 2008 Fall Fuzzy Goat Show. Congrats to her owner Anita Martin of Shantara Alpines!

In 2009, Becky married Bill Ensinger and moved to Dayton, Tennessee, along with the goats. Bill has done a lot of work improving the web site and turning 6 acres and a barn into a productive goat farm. With small children, we haven't been able to go to as many goat shows as in the past. However the goats continue to win prizes with yearling Memory going GCH and BOB, and 2010 kid Jabine earning RGCH and GCH.

"And thou shall have goat's milk enough for thy household..." Proverbs 27:27a

<!-end of column 1->
<!-right main page table cell->




BLOG: Here's What's New!

May 2013

Isaiah 9:6: "For unto us a child is born, unto us a son is given: and the government shall be upon his shoulder: and his name shall be called Wonderful, Counsellor, The mighty God, The everlasting Father, The Prince of Peace."

Farmer's Market in Ooltewa, TN: Thursdays 2-5pm There is a new Farmer's Market at the Ooltewa Nursery on Thursdays from 2-5pm. We will be there regularly! Come check it out.
View Larger Map

Fireman is for sale! Click here to see his information. Contact us or use our contact form for details.

New Pictures: We've added a bunch of new pictures to our pictures page. If you haven't checked them out in a while, be sure to take a look. There's a new section showing some of our efforts to be sustainable. Check it out here.

Ducks and Duck Eggs: Summer 2012: We have added ducks and now have duck eggs available for sale.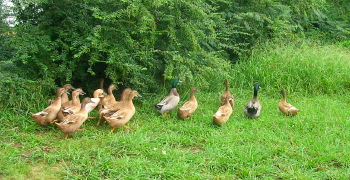 Use our contact form if you are interested in getting eggs.
Our farm has been featured in two articles by David Tulis, editor of Nooganomics, a web site dedicated to reporting on the local economy of the Chattanooga area. One about our recent Open House and another about our farm. Check it out here: Goats help family pour sweet milk into farm, soaps sold online.
We attended the Georgia State Fair in October. Dixie Does Fireman Clementine was GCH jr doe and Dixie Does Fireman Helena was RGCH sr doe!
Introducing Maggie March 2012: Dixie Does Alpines is expanding to a new breed: LaManchas! Here is Maggie, a beautiful doe, and our first LaMancha in over 10 years!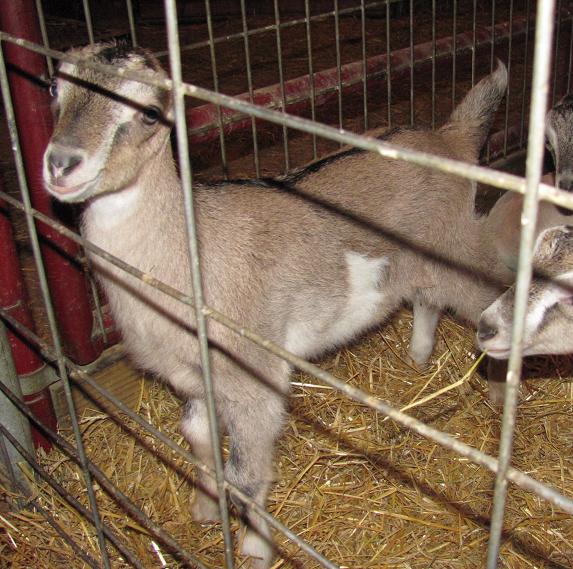 New Soaps pictures! Many of our soaps now have new pictures similar to the one shown here.


Check out our soaps page to see more!
Welcome Elizabeth! Our second child arrived in early October 2011. Mom and baby are doing well.

Farm Pictures
We have just uploaded a bunch of pictures from around the farm in Dayton! Check them out at Farm Pictures.
New Goats Page: We have combined our 3 goats pages into one page with an easy to use menu similar to our soaps page. Check out The Goats.

Eggs: Our first egg, June 14. 2011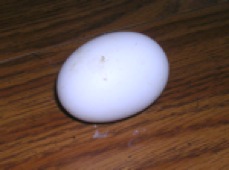 June 30, 2010: Our first human baby, Laura, arrived 6-30-10!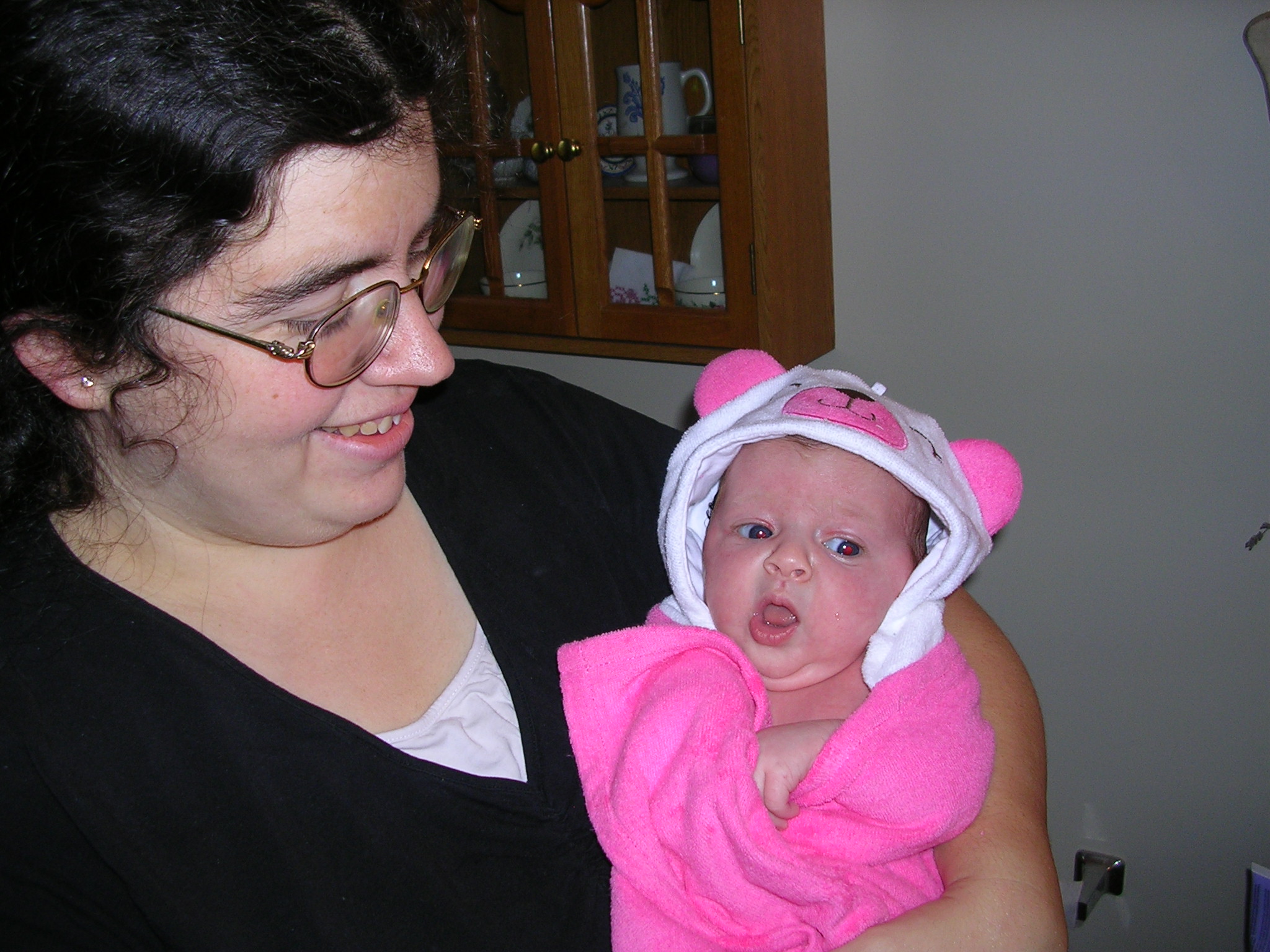 The Kid Pen: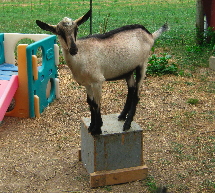 <!-End of column 2-> <!-standard bottom->